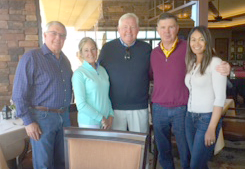 Mark and Muriel Dickinson and Ralph and Mia Yohe, who are friends from Braintree, join Jack and Marci for lunch in Las Vegas. The two couples were active in the Dianne DeVanna Center and big supporters of Wednesdays Child. They were in town to watch the Pac 12 basketball tournament.

40 years since tragedy caught Jack's attention:

There was something about the story that haunted me immediately: an eleven year old girl beaten to death by her father and step mother only a day after a judge ordered her return to her father's care. Her name was Dianne DeVanna. She had been tied to the rafters upside down and beaten to death with a bread board. Jack went to Braintree to cover the tragedy, the first of many trips there to update the investigation. He and Marci contributed money to help buy the little girl a headstone. Later the Dianne DeVanna Center was founded and the Williams' contributed hundreds of thousands of dollars over the years.

The fall of 2018 in Braintree people jammed the town hall to remember what had been done in Dianne's name. The event was hosted by Braintree Mayor Joseph Sullivan and Jack and Marci Williams were the featured speakers. Forty years of success stories were shared and once again people vowed to not let the world forget about this precious little girl.

Marci said she too was haunted by the story and encouraged Jack to keep on it. Jack said it was a big reason why Wednesdays Child was started three years later.


---

A Quiet Friend of Wednesday's Child Who Made A Tremendous Difference:

When Claire Bogrette died last year, Wednesday's Child was notified by her attorneys that the bulk of her estate was to be given to help special needs children through the Jack and Marci Williams Endowment for Wednesday's Child. The largest amount came from the sale of her house in Westwood. It amounts to several hundred thousand dollars for the charity.
Though neither he nor Marci had ever met Claire, this kind and quiet woman decided she wanted to make a difference. Over the years she had followed the progress of Wednesday's Child and her heart went out to these children who face life alone, without families.
Both Marci and I and our entire board are overwhelmed by her generosity.
Each year the Endowment gives over $350,000 in grants to group homes in Massachusetts and New Hampshire.
In 2015, St. Ann's Home in Methuen named a new $7-million building on the campus in honor of Jack and Marci Williams. The facility and staff work with some of the children who face the most challenges in helping them develop a healthy life with a loving adoptive family.
Jack Williams
February 2018


Wednesday's Child loses two dear friends:

Less than five months after his beloved wife Daphne died, Tom Corcoran died tonight after being hospitalized today. He had stage 4 liver cancer. Tom and Daphne hosted 30 fundraising events at Waterville Valley and were instrumental in getting Volvo as a major sponsor for Wednesday's Child. In all they helped us raise almost $10-million for special needs adoption.
I saw Tom at last week's memorial for Daphne. He knew how much we all loved and appreciate them both. I spoke at the memorial.
Jack
6/27/17


Daphne Corcoran died at home February 11, 2017 in South Carolina, where they moved after all those fabulous decades in Waterville Valley, NH. They were our neighbors and we had a ball with them, traveling extensively, sailing, skiing and raising hell. On the more sedate side, Daphne and Tom, as owners of Waterville Valley, helped us to raise millions for Wednesday's Child with our 30 years of the Wednesday's Child ski race. She was always full of life and was one of the best entertainers I have ever met.
She never tired of throwing a party, fixing a meal, lighting a fire or having a drink or two. Then it was on to sleigh rides, late night cross country skiing, or rowing ashore from the Snowdance in some Maine harbor to find more fun and giggles. She was just a little thing and she and Tom made a near perfect couple.

Thank you Daphne and Tom.

---
St. Ann's Names a Building
After Marci and Jack
St. Ann's in Methuen is a leader in the care of special needs children and helping them find adoptive homes. Hundreds of Wednesday's Children came from this marvelous facility.

The new building will serve as the base for their community based acute treatment. It will be known as the Jack and Marci Williams building on the Methuen campus. (read more)

Here's the link to the addendum giving more details about the dedication ceremony on June 3rd.

Jack & Marci Williams at the dedication ceremony in early June.
New England Council Honors
Jack Williams
Jack Williams was honored as a 2015 "New Englander of the Year" by the New England Council.
The award is in recognition of his remarkable career as one of our region's most respected television news anchors, as well as his tireless work to help children find adoptive families through Wednesday's Child. Read the letter here!
THE JOY OF GIVING