Former Wednesday's Child sends a heartfelt note to Jack.
Jack was recently contacted by one of the first Wednesday's Child to be featured in 1981. Wyman Cannon was 14-years old at the time, and he credits Jack & WBZ-TV with finding him a forever home. Read his note here.


Wednesday's Child loses two dear friends:

Less than five months after his beloved wife Daphne died, Tom Corcoran died tonight after being hospitalized today. He had stage 4 liver cancer. Tom and Daphne hosted 30 fundraising events at Waterville Valley and were instrumental in getting Volvo as a major sponsor for Wednesday's Child. In all they helped us raise almost $10-million for special needs adoption.
I saw Tom at last week's memorial for Daphne. He knew how much we all loved and appreciate them both. I spoke at the memorial.
Jack
6/27/17


Daphne Corcoran died at home February 11, 2017 in South Carolina, where they moved after all those fabulous decades in Waterville Valley, NH. They were our neighbors and we had a ball with them, traveling extensively, sailing, skiing and raising hell. On the more sedate side, Daphne and Tom, as owners of Waterville Valley, helped us to raise millions for Wednesday's Child with our 30 years of the Wednesday's Child ski race. She was always full of life and was one of the best entertainers I have ever met.
She never tired of throwing a party, fixing a meal, lighting a fire or having a drink or two. Then it was on to sleigh rides, late night cross country skiing, or rowing ashore from the Snowdance in some Maine harbor to find more fun and giggles. She was just a little thing and she and Tom made a near perfect couple.

Thank you Daphne and Tom.

---
St. Ann's Names a Building
After Marci and Jack
St. Ann's in Methuen is a leader in the care of special needs children and helping them find adoptive homes. Hundreds of Wednesday's Children came from this marvelous facility.

The new building will serve as the base for their community based acute treatment. It will be known as the Jack and Marci Williams building on the Methuen campus. (read more)

Here's the link to the addendum giving more details about the dedication ceremony on June 3rd.

Jack & Marci Williams at the dedication ceremony in early June.
New England Council Honors
Jack Williams
Jack Williams was honored as a 2015 "New Englander of the Year" by the New England Council.
The award is in recognition of his remarkable career as one of our region's most respected television news anchors, as well as his tireless work to help children find adoptive families through Wednesday's Child. Read the letter here!
THE JOY OF GIVING

2015 Wednesday Child grants have been sent totalling $455,000!

Also, Marci and I are proud that we were ahead of the curve when we established a scholarship at the University of Oregon with preference given for students who have benefitted from adoption or foster family care services. It is fully funded and will continue in perpetuity. In the latest Oregon Quarterly there is a lengthy article on former foster kids who have prospered at the University of Oregon. Our scholarship was established with personal funds and has no ties with the Jack and Marci Williams Endowment for Wednesday's Child (which focuses on group homes in New England looking after special needs kids awaiting adoptive homes).
---
THANKS FOR YOUR GENEROSITY
Wed Child Board Members Susan Petersen and Tom Warden--$2,000
Paul and Mary Brough--$1,000
Ladies Ancient Order of Hibernians--$255 (in memory of Doris Ratuse--a longtime Wed Child supporter)
Norman Weill--$200
Jeanette and Conrad Fagone--$200
Millie Maziarski --$200
William and Kathleen Casey -- $100
Williams McCarthy -- $100
Susan LeMoine --$100
Karen Dutton--$100
Forrest Trenholm--$25
Roberta MCDermott--$25
---
FITNESS CHALLENGE A BIG SUCCESS!
More than 600 very fit athletes from all over Southern New England gathered at Gillette Stadium in late September for a tremendous event. Wednesday's Child is one of four charities to benefit from the money raised. Many thanks to Metro Swat for putting on the event and thinking of special needs kids.
Metro SWAT Officers and Their Wives Join
Marci and Jack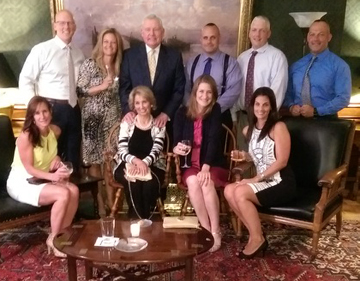 Final plans were made for the Fitness Challenge at Gillette Stadium in Foxboro, organized and run by elite members of the Metro Swat team. Key members joined with Marci and Jack for a planning dinner. Attending were; Chris Soffayer, Toni Manzon, Jason Brennan, Carly Brennan, Chris Baker, Leeanne Baker, Eric Copeland, Annie Copeland. Information can be found at nefc2014.com
The date was the night of September 27th-28th.
---
Barry Burbank Given Wednesday's Child
Volunteer Award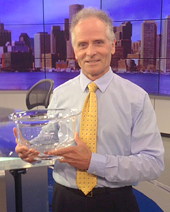 Meteorologist Barry Burbank of WBZ-TV was given the Ruthie Antonides Volunteer Award for 2014 after giving all of his speech money to Wednesday's Child. Over the years it has amounted to tens of thousands of dollars. Barry praised the school children who wanted to help Wednesday's Child and raised money with bake sales, giving up their allowances and other events. Barry has been visiting schools for years, getting youngsters interested in meteorology. Barry has been a top talent at WBZ TV for 37 years.

Ruthie Antonides was a volunteer for 24 years at the annual Jack Williams Ski Race for Wednesday's Child. She died of cancer but her last thoughts were of the kids who need adoptive homes.
---
In Honor / In Memory Donations
In recognition of Ava Lecompte's adoption, contributions were made to Wednesday's Child by:
Melanie Allen of Dorcester
John Fransoza of Brighton
Mark and Julie LeCompte
Suzanne Sullivan of Arlington
Emily Mitchell of Bedford
John Fransoza of Brighton
Mark and Julie LeCompte

In recognition of Ava LeCompte's birthday, contributions were made to Wednesday's Child by:
Angela Sanchez of North Grafton
Melissa Bradley of Newton.
In Memory of William Payne a contribution was made by:
Ginny Birmingham of Cambridge

Please visit In Memory page for more.
---
THANKS KIDS!
They wanted to do something for Wednesday's Child:
5th graders at the Horace Mann School in Newton held a bake sale for Wednesday's child and raised $391.86.
In Worcester, at the Columbus Park Prep Academy, they donated their allowances for two months and sent Wednesday's Child a check for $300.


---
Wendy's Customers Raise $180,000
For Wednesday's Child!


Another successful year for the Wendy's Wednesday's Child coupon campaign. Jack was on hand in Westford, MA. Tuesday, March 25th, at the Wendy's managers rally. He was given a check for $180,000 for Wednesday's child, the amount raised by customers buying $1 coupon books at Wendy's stores in Massachusetts and New Hampshire. Over the years, Wendy's has raised more than $3-million for Wednesday's Child.
---
Wednesday's Child 33rd year!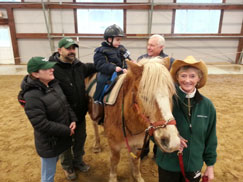 Photo by: Rick MacComber

Here, Jack takes 6 year old Donnie to Ironstone Farm in
Andover to tape a segment. Wednesday's Child is seen
every Wednesday's night on the 6:00 news on WBZ-TV.
---
CONGRATULATIONS

!
Jack & Marci Williams were selected by the Board of Trustees and Board of Directors to receive Spaulding Youth Center's 9th annual You've Got a Friend Award, presented Oct. 17th 2013 at their 55th annual celebration.
---
---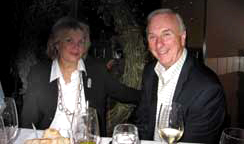 ANN FINUCANE; SPECIAL FRIEND OF WEDNESDAY'S CHILD
Over the years Ann Finucane has helped raise money for Wednesday's Child and special needs adoption. Ann, an official at Bank of America, had directed contributions from Bank of America as well as other sources to help provide care and eventually adoptive homes for these children. She has done so quietly, with dignity and compassion. She is shown in the picture with John Collins a member of the Wednesday's Child board and treasurer of the Jack and Marci Williams Endowment for Wednesday's Child.
---
The 30th Anniversary of Wednesday's Child Celebration at Jordan's Furniture in Reading with Jack & Marci Williams

- Slide Show