2010: Life at the beach with all the Muise boys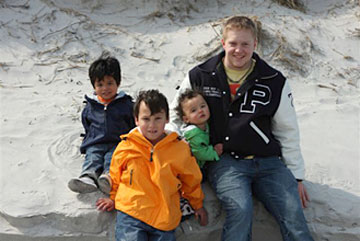 2010: The Muise family adopts another child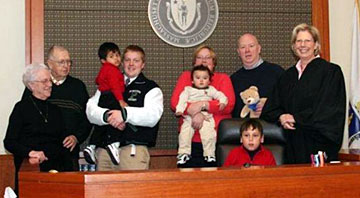 Jack - Well it is official. Presenting Riley Griffith Muise, the inn is officially FULL, or we need a bigger inn. Thanks for all you do.
Chris, Bonnie, Christopher, TJ, Lee and Riley Muise.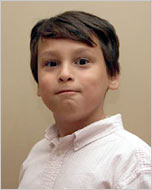 Mr. Serious (aka TJ) getting ready for his big second grade school photo. We were at the adoption event this past Sunday at Jordan's in Reading. We have volunteered to mentor pre-adoptive people/couples to help them from the adoptive parent's side of the process. We were at Jordan's as "experienced parents" talking with potential adoptive parents and mostly setting their minds at ease. It was very heartening to see the hundreds of people that are interested in giving these wonderful kids a forever family. Thanks again for all you do, The ever-growing Muise Family.
2009: The Muise family is growing and T.J. has another brother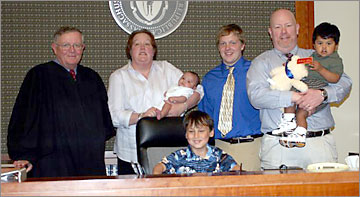 Tuesday April 28, 2009
Jack: This was today at Brockton District Court. TJ's brother Lee is officially ours now. The baby will be a few more months but we think he's worth the wait.
Thanks again for all you do. From the ever growing Muise Family.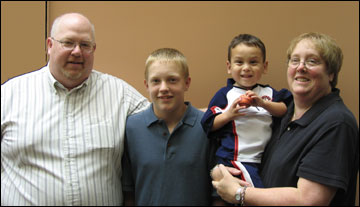 T.J. FINDS A HOME!
And, what a home! T.J. now is three and is 38 pounds of energy. He's pictured here with his adoptive parents-Bonnie and Chris Muise, and his adoptive brother Christopher. Bonnie and Chris were just named by DSS as the adoptive parents of the year. After seeing a sickly TJ on Wednesday's Child two years ago, the couple decided it was the perfect match for their family. Even with TJ's medical issues, they were undaunted. Bonnie works as a pediatric nurse at Children's Hospital in Boston. They told me he is a gift from heaven and all of the extended family loves him.
T. J. is growing up fast and is such a joy to his family.